Starting in mid-December 2020, Doximity Dialer is transitioning to VoIP (Voice over IP) based calls. VoIP based calls are phone calls that are placed over the internet. Once transitioned, users may notice a more seamless experience when using Dialer (no more calls to the intermediate phone numbers)! Users may also notice a new call interface surfacing the ability to start a Dialer Video call from a phone call.
Article contents
_____
What's New: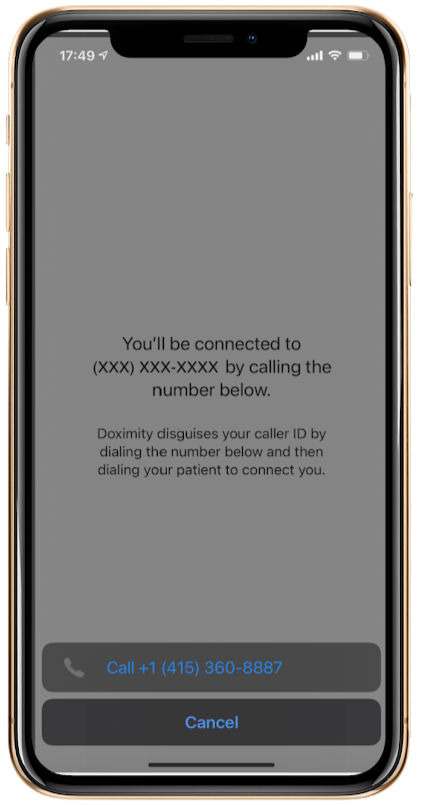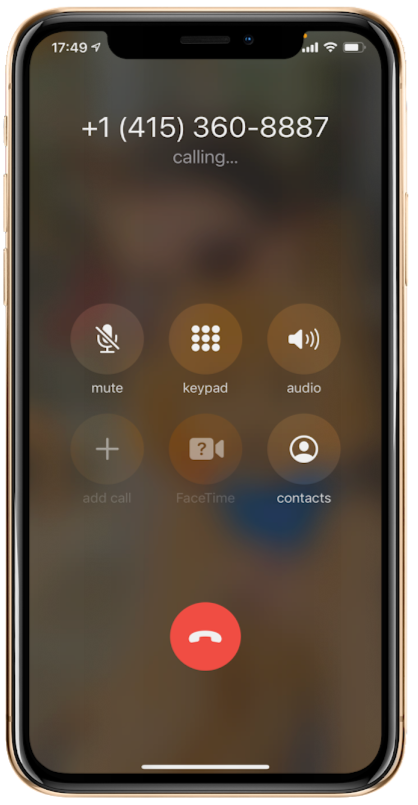 Before VoIP Calling: call bridge line, no easy way to switch from voice to video call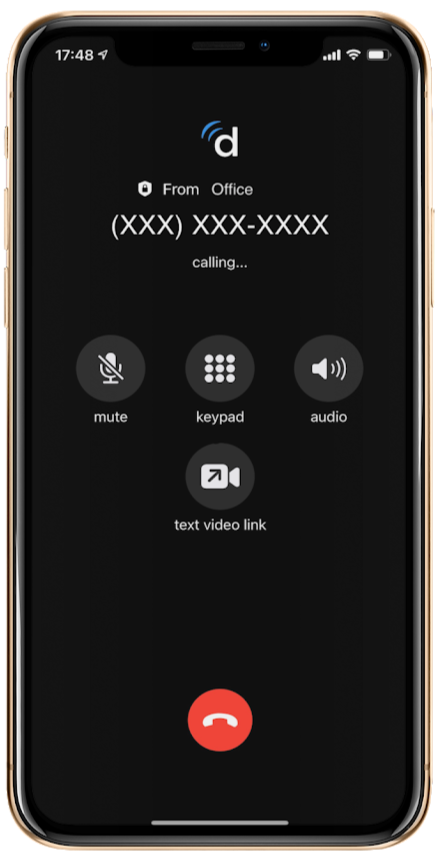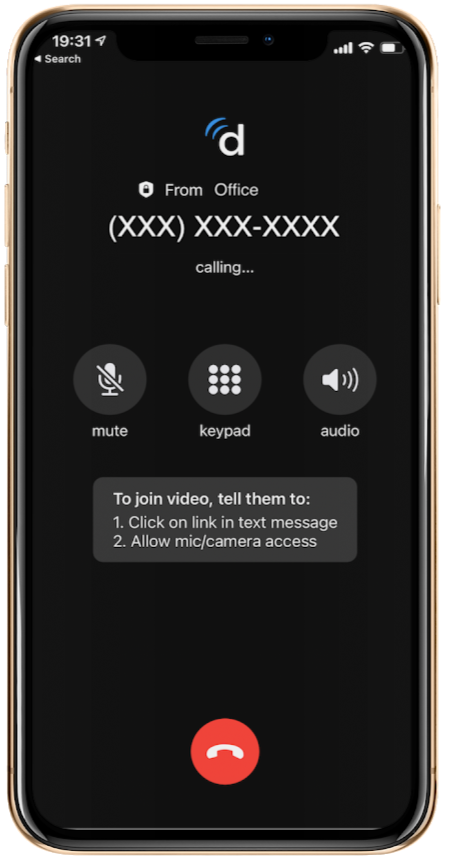 Now with VoIP Calling: no bridge line, seamless interface to connect to a video call. Tap the 'text video link' button from the call interface to send the video link via text message without interrupting the voice call. The patient should look at their text messages and tap the link. Once the patient has enabled their camera and microphone, the voice call will end and the video call will start.
How to enable and disable VoIP
First, ensure you are on VoIP-based calling by tapping Settings > Voice Calling > Use Internet to Place Calls (must be switched on). If you do not see this section, you are not using VoIP to place calls and have not received this update yet.
Navigate to the Dialer tab. Tap on the Settings icon to open your Dialer settings menu.




Open the Dialer settings menu and look for the Voice Calling section. If the button is blue, this indicates that VoIP is on for your account. If it is gray, it is turned off. Dialer settings can be adjusted from this menu and VoIP can be turned on or off at any time.

If you have confirmed you have VoIP calling enabled and would like to disable VoIP, follow these steps:
Tap Settings

Scroll to

Voice Calling > Use Internet to Place Calls

Switch the setting to

OFF.

With Use Internet to Place calls off, calls will go through the bridge line and your interface will look like the below screens.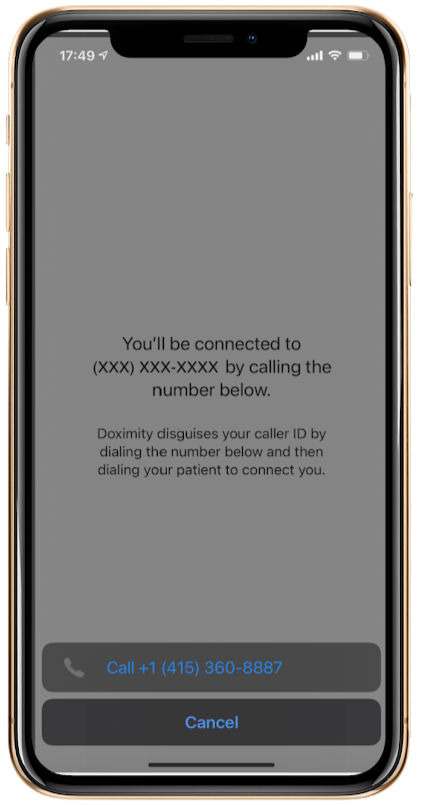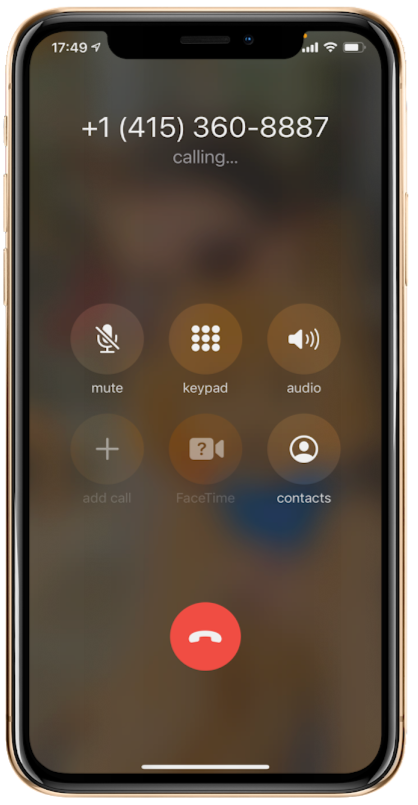 FAQ's
Will this affect my patients?
No, your patients will not experience any changes. Patients will continue to receive a phone call from your chosen caller ID.
What can I do to ensure I have the highest call quality?

We recommend the following to make sure your calls are clear and uninterrupted:
1. Make sure you're on a strong WiFi network connection.
2. If you're not on WiFi, check that you have a strong cellular connection.
3. Using headphones may help call quality by reducing noise.
Will my calls use cellular data?

Yes. If you are not connected to a WiFi network, your call will use cellular data. This differs from the previous call experience which used your cell phone plan's minutes. If you have concerns about using cellular data, please ensure you're connected to WiFi before placing a call. We've seen that the avg 5-minute call uses around 6 MB of cellular data. For the average cellular plan with a 2GB data limit, this represents 0.3% of your data plan.
What if I want to turn off the feature?

See How to enable and disable VoIP above.
Will this affect my video calls?

No, this is for Dialer audio-only. The VoIP call interface does allow you to seamlessly switch from a voice call to a video call with little call interruption. (see screenshots above)
What version of the Doximity app do I need?

This feature is supported on Doximity app mobile versions of:
iOS: 15.2.0 and above.
Android: 8.1 and above.
Operating System version requirements:
iOS versions 13+
Android versions +7.0 and above
How do I see what version I'm on? What version does my phone need to be on?

Navigate to your Doximity app settings under the newsfeed, the bottom of the page contains information about your application's version.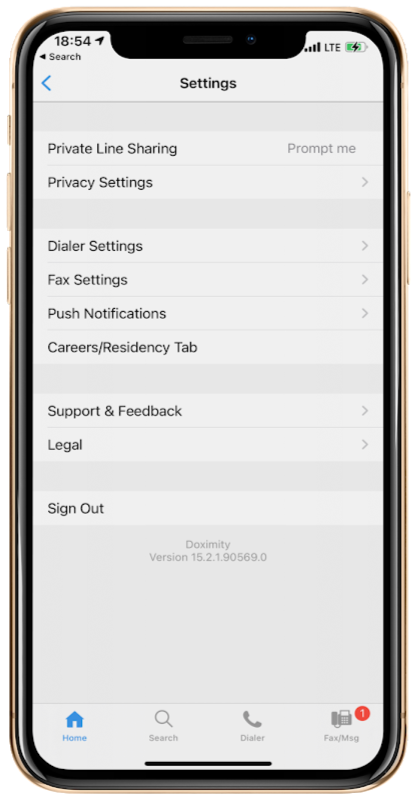 You can also follow this article to learn how to upgrade your application version.
Does it matter if I'm on data or WiFi?

We recommend using WiFi when placing calls using VoIP-based calling.

Troubleshooting for doctors and IT professionals
Troubleshooting for doctors
If you are having issues with your Microphone:
Navigate to your device

Settings > Doximity

Turn on the microphone permissions

Test out the call again to ensure your microphone is working correctly.
How to fix a bad internet connection:
We highly recommend using Doximity calling on a good WiFi connection. See

What can I do to ensure I have the highest call quality?

If you do not have strong WiFi or cell service and are experiencing issues with VoIP, you can disable the feature temporarily. See

Enabling and disabling VoIP
Other potential issues
Troubleshooting for IT professionals
Please see How to Prepare Your Network for Doximity Dialer Video (for IT Professionals)
Other suggestions for IT:
If your network's NAT supports it, you should utilize its QoS feature (Quality of Service) to prioritize VoIP audio packets.

Contact your ISP. Some service providers may prioritize your traffic over others and/or improve the contention ratio. Ask if they are shaping or throttling your connection specifically for VoIP traffic. Ask them if they can prioritize VoIP traffic and/or offer a contract that is unshaped and unthrottled.

You may be experiencing packet loss or congestion. Forcing an alternative route, via a DNS proxy or similar mechanism may improve transport reliability.

Using VPN adds latency to the network and may cause network switching, whereby audio packets are sent along more than one route to the destination. This increases the occurrence of jitter, as packets are no longer traveling in a predictable, sequential path, and may arrive out of order. Disable your VPNs specifically for VoIP calls.