To send a Fax from your Android, please:
Access Doximity on your Android device
Tap on 'Fax/Msg' tab at the bottom right corner
Make sure the Fax option at the top of the screen is circled / white, and not the Message option

Tap on the

blue 'Pencil SEND FAX' button

in the lower right corner

Enter the Person/Fax number you wish to fax message
Enter your message where it says: 'Optional cover page text'
Tap on the 'Arrow' icon on the top right side of the screen to send the fax
Note: You can attach a file by tapping on the '+' icon which will give you the option to 'Select a file', 'Scan a Document', and 'photo from library'.
PLEASE NOTE: The 'Scan Document' feature is only available for Android devices running 9.2.0 or higher.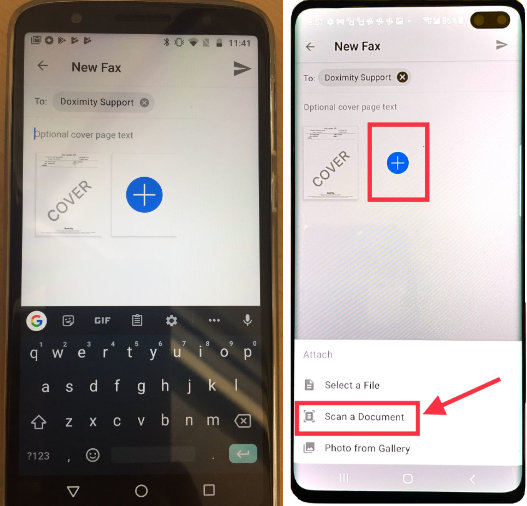 To cancel a fax before it is sent:
Tap the send button on a fax, you will see a notification pop up at the bottom of your screen that will say 'fax sent' and 'undo'.
Tap on the option 'UNDO' and this will automatically cancel your fax before it is sent.