We are working on expanding Dialer access so more healthcare professionals can use it. We will notify members as soon as we have a working solution (Updated March 16, 2020).
Already have a Doximity account? See our separate Dialer setup instructions for existing members.
To use Dialer in the Doximity app:
1. Install and open the free Doximity app on your phone.
2. Tap the Blue Register button near the bottom of the screen. Then, enter your first and last name, then tap Find my profile.
3. Select the profile that belongs to you from the list.
4. Confirm your profile by answering the verification questions.
5. Once you sign in, tap the Dialer icon near the bottom of your screen.
6. Tap the blue Link My Phone button on the pop-up. Tap on it.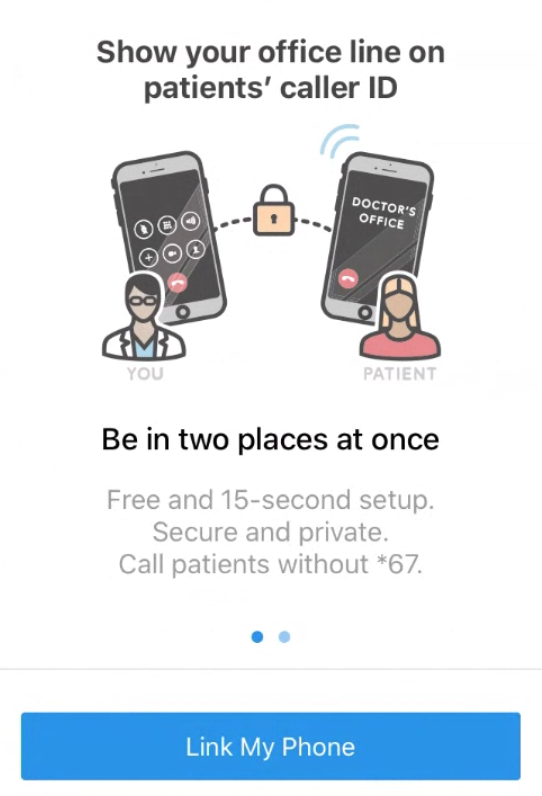 7. You will be prompted to "Call +1 (415)-xxx-xxx, xxxxxx". This is an automated call, the last 6 digits on the number are used for verification purposes.
NOTE: If for some reason you do not see the 'Link My Phone' screen, you will have to manually update your Settings in the Doximity app. Here's how to do that:
Open up the Doximity app and tap on the Dialer tab
Tap on the Settings button/icon under the number 7
Tap on This Device Number
Enter your real cell phone number here (Note: this is how we verify your device, but we will not reveal this number when you use Dialer to call your patients)
Tap Save
8. If you have an office number associated with your profile, you are all done with the setup. You will see a screen saying You're In!. You can now can start using Dialer.
If you do not have an office number, it will ask you for one on the next screen.

Enter the number you want to display on your patient's caller ID.

The number at the top of the Dialer screen is the phone number that will be displayed on your patient's caller ID when you use Doximity Dialer.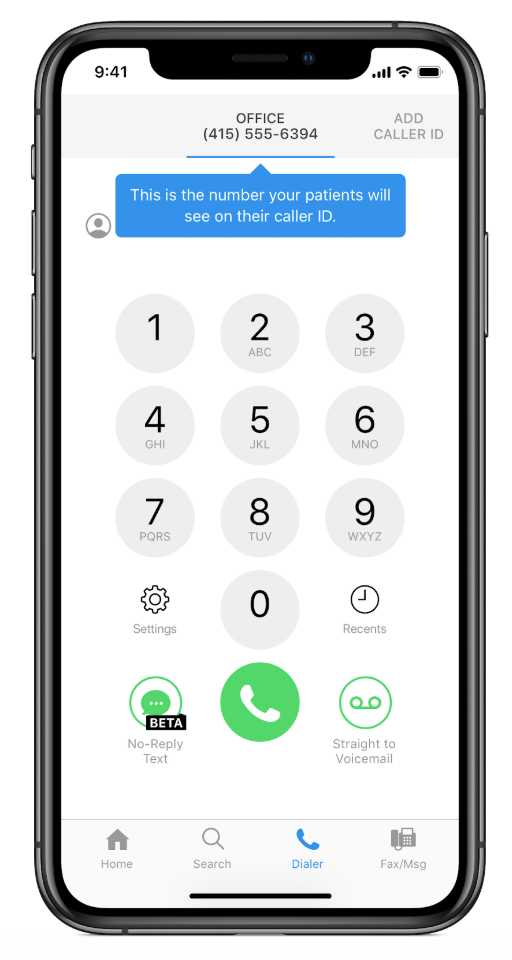 9. To place a call, dial your patient's phone number on the keypad and tap the green call button.
You will see "Call +1-415-xxx-xxxx" number. This is a bridge line that will connect you to your call, but hide your number.
If you are not verified, it will prompt you to Get Verified. Tap Get Verified.
That's it! You will be connected to the recipient of your call, and they will see your office number on their caller ID.
Other questions: Dialer FAQ