Your colleague list helps you to keep track of your professional connections. Adding someone as a colleague places them on your contact list, allowing you to quickly access and communicate with these individuals. You can also share private contact information with colleagues, such as mobile numbers, backlines, pagers, and email addresses.
To add a colleague, go to that user's profile and click on the blue 'Add Colleague' button.
When sending a colleague request, you can also send a personal message as well.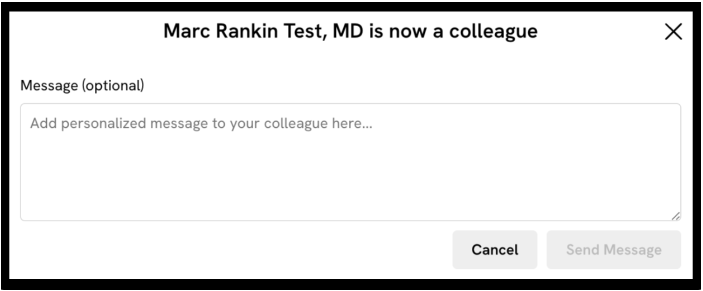 You can also remove colleagues at any time. To remove a colleague:
Login to your Doximity account
Click on the 'Colleagues' tab
To the right of the page, located under Your Colleague Network, click on 'Your Colleagues'
You can also access this page by clicking this link: https://www.doximity.com/colleagues/connections
Click on the colleague profile you would like to remove

Click on the gray 'Colleague' button under the profile picture
You will receive a message asking 'Are you sure you want to remove this person from your colleague list?' Click the blue 'OK' button
The selected Colleague will now be removed from your colleagues list.