With the Dialer Video Desktop release, we are working around the clock to incorporate all the features you want.
Once you are connected with your patient, to add another participant, click on the '+ person' icon at the bottom of the screen.

This will initiate the following options: Interpreter, Patient Hand-Off, Colleague, Family Member, Copy link to Video
In order to add a third party to your video call, you will have to select 'Colleague'.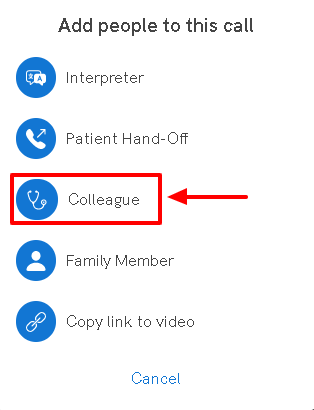 You can share the link via Text or Email to the 3rd person you wish to invite on the Video Call.
Inviting a 3rd person via Text does NOT expose your personal cell phone number to either party. All participants invited to the Video Call will receive a text with a 882-86 short number inviting them to the Video Call so your number stays private.
Also, inviting a 3rd person by selecting 'Interpreter', 'Family Member', or 'Patient Hand-Off' does not expose your personal cell number to either party.
PLEASE NOTE: By sharing the link via Email, the 3rd person WILL see your Private Email address. It is now up to the 3rd person to click on the link you shared with them so they can join the Video Call.