To send a fax from your iOS device, please:
Access Doximity on your iOS device
Tap on the 'Fax/Msg' button in the bottom right corner
You will then enter your passcode or use face recognition to log in to view your faxes
Tap on the 'New Fax' icon in the top right corner
Enter the Fax number or name of our Colleague at the top
Enter Text in the area above the Cover option: 'Optional cover page text'
Tap 'Send' in the top right corner
Note: You can attach a file by tapping on the '+' icon which will give you the option to 'Select a file', 'Scan a Document', 'Take a photo', 'photo from library', and 'Compose a letter'.
PLEASE NOTE: The 'Scan Document' feature is only available for iOS devices running 15.0 or higher.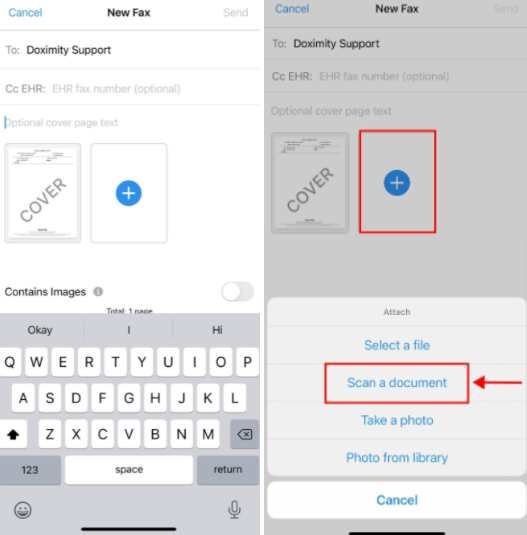 When adding an attachment, you can tap on the 'Toggle' button located to the right of 'Contains Images' at the bottom of the fax to retain image quality. Note, attachments cannot be over 50 megs in size, or the fax will fail.

To cancel a fax while it is in 'sending', tap on the word 'Undo'.

After you tap on 'Undo', this will move your fax to your Drafts tab where you will be able to make any necessary edits that are needed before sending it.