This article covers Dialer Video details for IT professionals and administrators. Clinician members using Dialer Video do not need to configure anything.
For IT professionals
We recommend that you whitelist Doximity URIs and IP addresses for the best possible experience for your doctors using Doximity Dialer Video. Some of the URIs and IP addresses below belong to our vendors and are also important to whitelist when preparing your network for our product.
Whitelist URIs (Protocol and Port)
*.dox.com (HTTPS/443)

*.doximity.com (HTTPS/443)

*.doxcdn.com (HTTPS/443)

*.cloudinary.com (HTTPS/443)

*.twilio.com (WSS/443 & HTTPS/443)
Whitelist IP Address Ranges
34.194.183.251

52.7.18.6

52.86.106.39

34.225.34.50

52.5.178.211

Ports used: 10,000 - 60,000 UDP/SRTP/SRTCP

34.203.254.0 - 34.203.254.255

54.172.60.0 - 54.172.61.255

34.203.250.0 - 34.203.251.255

3.235.111.128 - 3.235.111.255

34.216.110.128 - 34.216.110.159

54.244.51.0 - 54.244.51.255

44.234.69.0 - 44.234.69.127
Review Bandwidth Requirements
Bandwidth (Uplink/Downlink)

Opus*: 40kbps / 40kbps
PCMU: 100kbps / 100kbps

Latency (RTT): < 200ms
Jitter: < 30ms
Packet Loss: < 3%
Supported Browsers

The following table indicates the browsers supported by Twilio Client JS. We support the most recent (N) and the two previous (N-2) versions of these browsers unless otherwise indicated.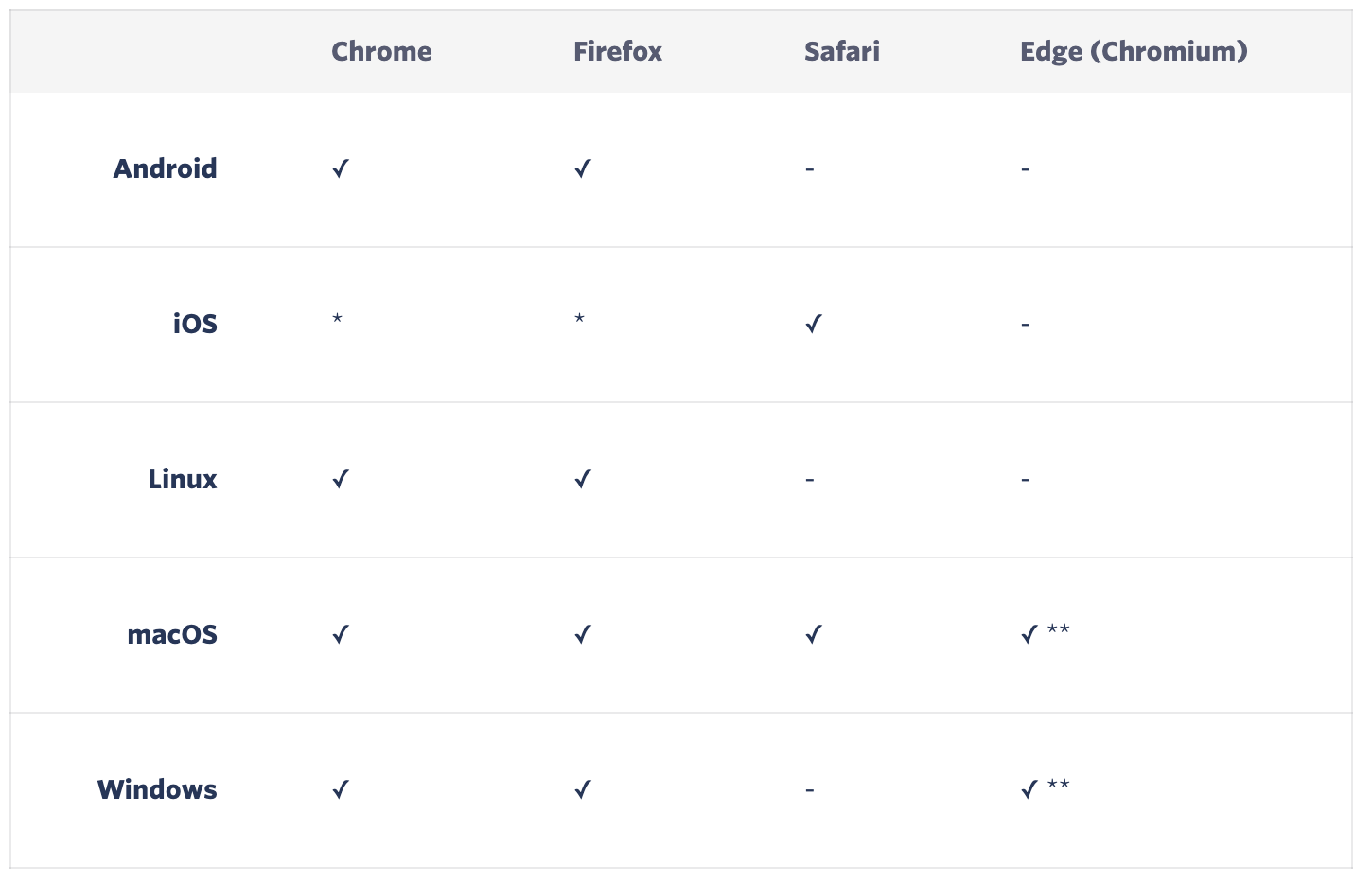 * Chrome and Firefox for iOS do not have access to WebRTC APIs, unlike Safari for iOS.
** The is Supported flag returns false for versions 2.0.0 or below. This will be rectified in 2.0.1.
*** Do not disable WebGL.
Email Whitelisting
If you are able to whitelist email servers by domain, whitelist the following:
o1.email.doximity.com
o2.email.doximity.com
o3.email.doximity.com
o4.email.doximity.com
o5.email.doximity.com
o6.email.doximity.com
o7.email.doximity.com
o8.email.doximity.com
o9.email.doximity.com
If you are unable to whitelist by domain, whitelist the following IP addresses:
167.89.59.248
167.89.126.39
167.89.1.243
167.89.14.144
198.37.158.91
208.117.48.117
167.89.14.103
198.37.158.235
50.31.33.59
Other FAQs
How much data will a 1-minute voice or video call consume on average for a user?
Standard Phone Call: 0 MB (does not use data)

VoIP Phone Call (beta): 1 MB

Video: 10 MB

What version of Chrome do you support?
The minimum version of Chrome supported for video calls is 85 and above.