Doximity News has launched a new Specialty-Focused Newsletter.
The Specialty-Focused Newsletter will deliver news, tailored to a specialty of your choice, once a week, straight to your inbox.
Use the link below to select your preferred specialty so you can read what matters to you.
Select Your Newsletters Specialty:
Choose your selection by clicking the '+' (plus) sign next to your specialty of interest.

1 selection max. Select 'Show More' to see the full list of specialties.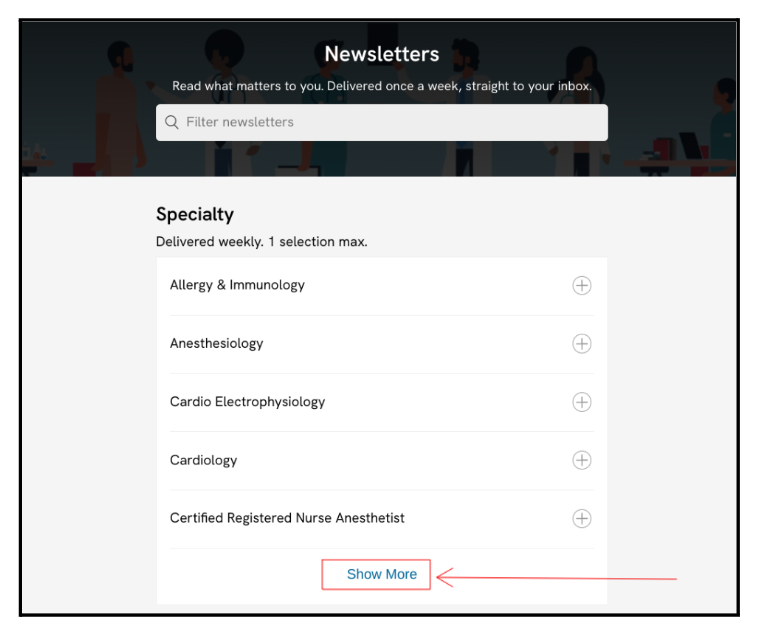 Once you select a specialty, a

pop-up in the right-hand corner will confirm your changes. Your preferences will be updated within one week




Your selection will be noted as 'receiving' and will now appear at the very top of the list of specialties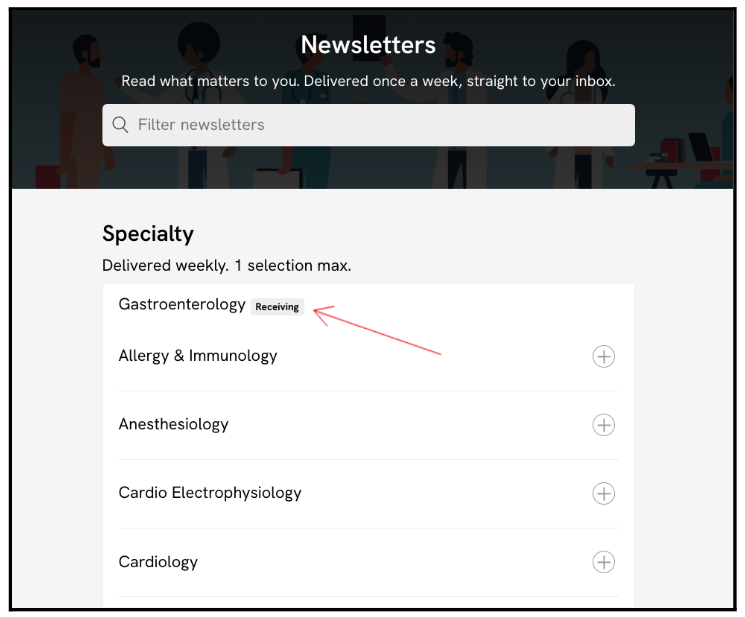 Change Your Newsletters Specialty:
Your selection can be updated at any time. To select a different newsletter specialty:
Scroll down to the new specialty you wish to subscribe to and select the '+' (plus) sign next to it.
A pop-up in the right-hand corner will confirm your changes. Your preferences will be updated within one week

Your new selection will be noted as 'receiving' and will now appear at the very top of the list of specialties
Unsubscribe From Your Specialty-Focused Newsletter:
To unsubscribe from your Weekly Specialty-Focused Newsletter:
Scroll down the list of specialties to the specialty you currently have selected and click on the 'blue checkmark'

The 'blue check mark' will revert to the grey '+' (plus) sign. This action will de-select the specialty and unsubscribe you from the newsletter
A pop-up in the right-hand corner will confirm your changes. Your preferences will be updated within one week