You can add up to 50 participants to your desktop Dialer Video call, including the provider and patient. To add another participant to your Dialer Video call on desktop, click on the '+ person' icon at the bottom of the screen.
PLEASE NOTE: The system currently does not allow dialing extensions while using the VIDEO feature and adding a 3rd person to any appointment. If you need to add someone to a Video appointment that requires dialing an extension, you must use the VOICE feature to connect with the person who requires the extension. You must dial the phone number and enter the extension first, before merging the call.

This will initiate a menu with the following options:
Add people (audio and video) - choose this option to add someone to your video call as an audio or send the video link via text
Add interpreter (audio-only) - choose this option to access your saved interpreter numbers and add the interpreter to your call as an audio-only participant
Copy room link (video) - choose this option if you want to send the video invite link over another platform such as email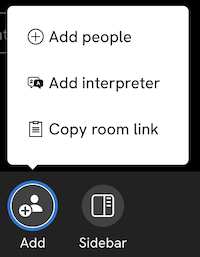 Inviting another participant to the video call via text will NOT expose your personal cell phone number to either party. All participants invited to the video call will receive a text from an 882-86 short number so your number stays private. If you choose to copy the video link to share it via email, the person you are sending the link to WILL see the private or professional email address that you use to send the link.
For more information on how to add an audio-only participant to a desktop Video call, click HERE.
For more information on how to send a Dialer Video invite from your computer via email, click HERE.