A record of every call you initiate can be found under History, which is available both on the mobile app and on the Doximity website (desktop).
Where Can I View My Call & Text History On The Doximity Website?
Login to your Doximity account in your web browser.
Click on the 'Dialer' or 'Calling' tab located at the top of your profile.
Next to 'History', you will see the options 'Video', 'Voice', and 'Text'. Click on the one you wish to view.
Your call history will show a record of all the Dialer calls you have ever placed on both mobile and desktop. Your 'Video' and 'Voice' call history includes the date, time, and duration of each call.
Your 'Text' history will show a record of all the Dialer texts you have ever sent on both mobile and desktop, including the date and time sent, and whether the text has been delivered, failed, or read.
NOTE: We do not offer an option to remove data from 'History'.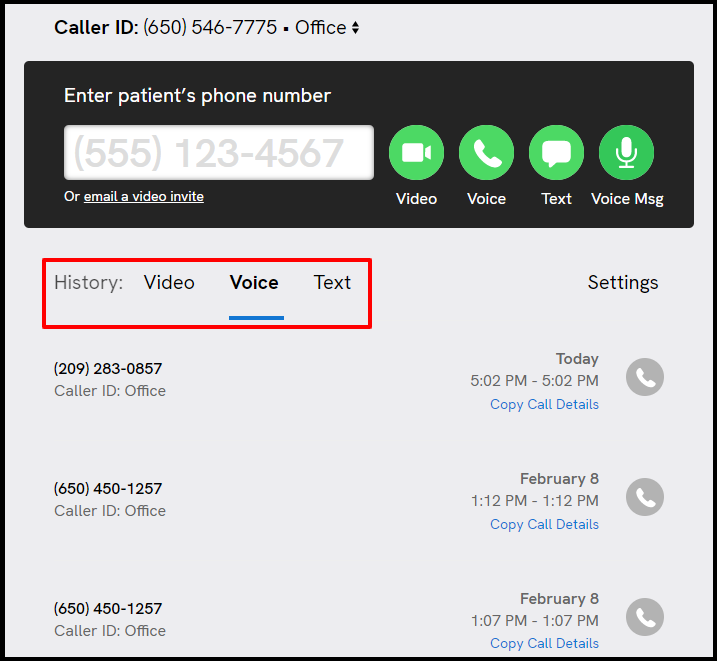 6. To easily transfer Dialer Call History data to your EHR, you can now select "Copy Call Details" next to a Dialer Voice or Video call to view a brief summary of your call duration. From this pop-up, select "Copy to Clipboard" to copy the details of your call duration summary.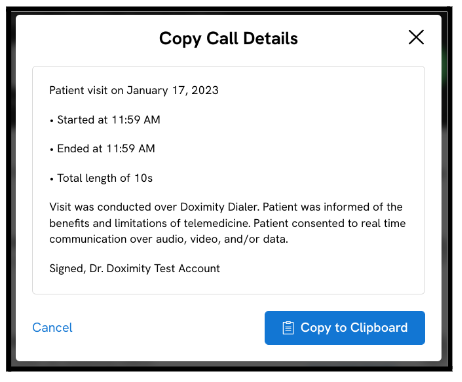 Note: "Copy Call Details" is only available on Dialer Desktop. Please access the website to utilize this feature.