Getting Started:
To use any of Doximity Dialer's communication tools (video, calling, or voicemail), you must be a verified Doximity member.
If you're a physician, NP, PA, or medical student, you can use

Dialer Video now

Otherwise, you must purchase Dialer Pro
In order to join the video call from your computer please make sure your computer has:
A built-in camera or attached camera so you can see your patient

A built-in microphone or attached microphone so you can talk to your patient

A built-in speaker or attached speaker so you can hear your patient
Desktop Browser Requirements:
MacOS Desktop: Chrome, Safari, Firefox, Edge

Windows Desktop: Chrome, Safari, Firefox, Edge
How-To Place Your First Call On Desktop:
Follow the steps below, or watch this quick video explainer.
Step 1
Login to your Doximity account on a web browser on your computer and click on the 'Dialer Video' tab on the top of your screen or go to doximity.com/dialer/video.
Note: If accessing on your tablet, please make sure you are logged into Doximity on the web browser of your tablet and you are NOT on the Doximity tablet app. If using iPad you MUST use the Safari browser.

Next, click on 'Settings'.

Step 2
Under Enable Text Notifications, click on the blue 'Add Number' button

Step 3
You'll then be prompted to enter the mobile phone number you'd like to receive text message alerts about when your patient has joined the video call room. Enter your mobile number in both fields then click 'Done'.
Note: This number will never be shared with patients and you'll only have to complete this step once!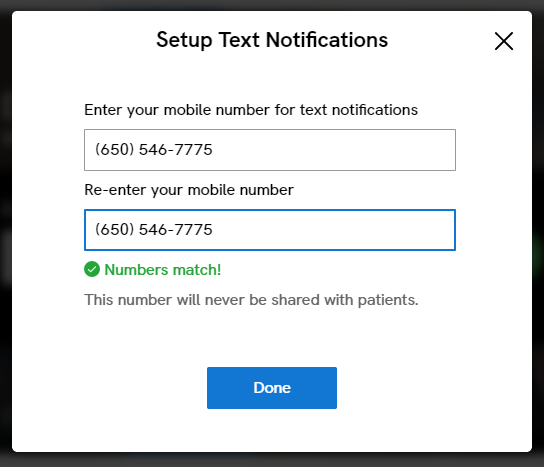 Step 4
Click 'Recents' you'll be brought to the Dialer Video Homepage where you can begin video calling on desktop.

Next, you'll be brought to the Dialer Video Homepage where you can begin video calling on desktop. To start a call, enter your patient's cell phone number in the blank field at the top (red arrow) and click the green video icon.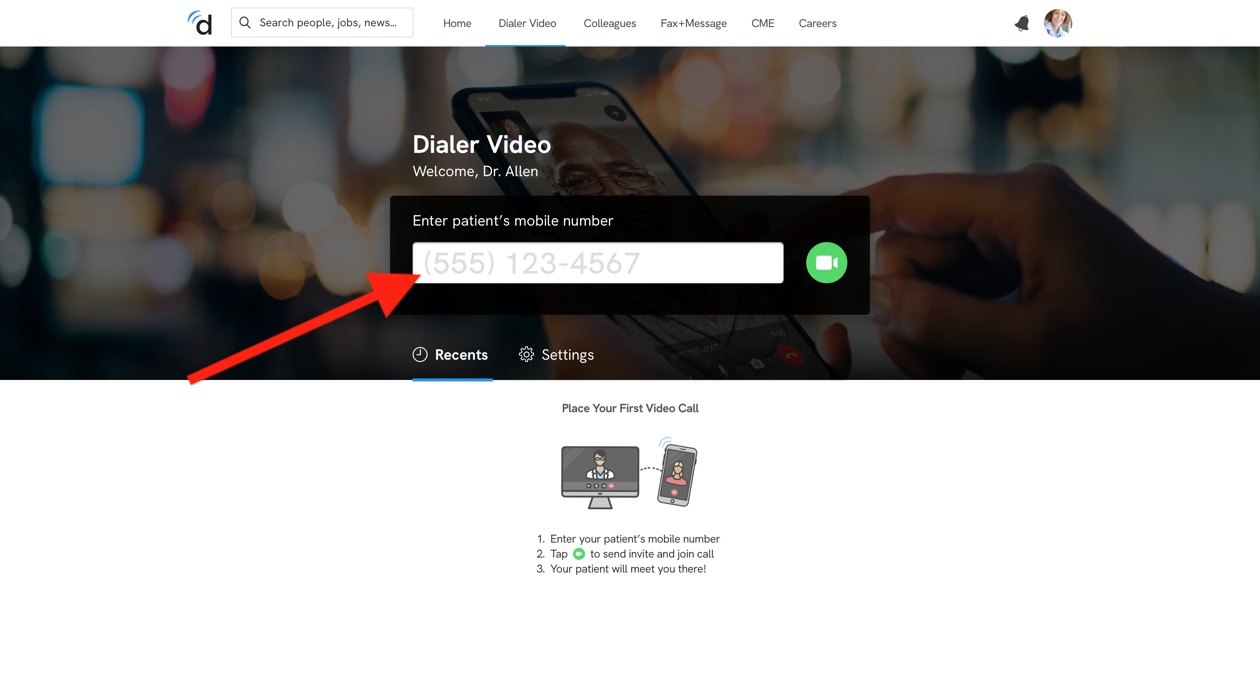 Note: Clicking the green video call button will automatically send a text message to your patient from an 882-86 short number inviting them to join your call. See the screen below for what your patient will receive.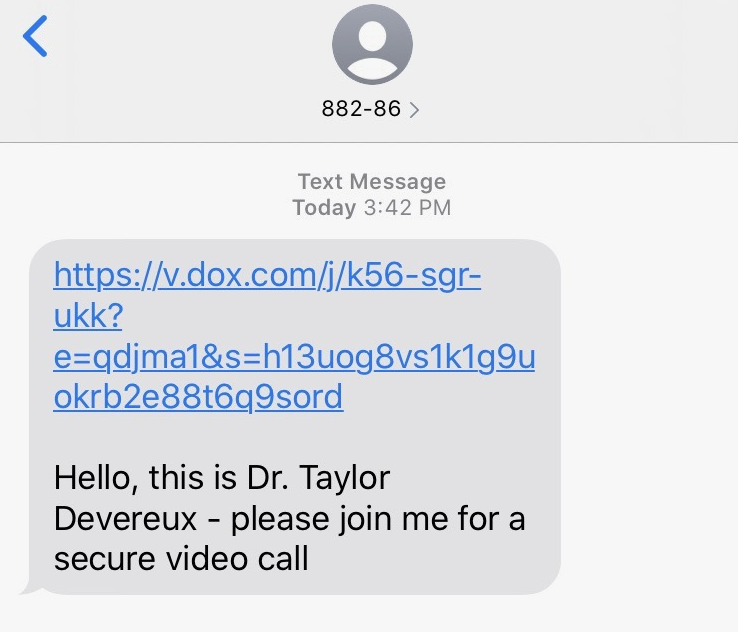 Step 5
Once you join the call you'll need to enable your web browser's microphone and camera so your patient can hear/see you. Click 'Allow Camera & Microphone Access'.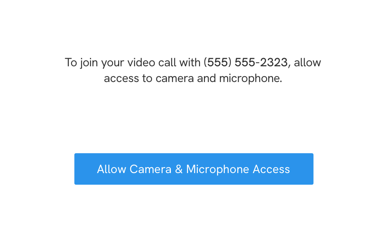 Step 6a & 6b
After you allow camera & microphone phone access, you'll be brought into the video call room where you can either:
Wait for your patient to join (6a)

Hang up and we'll text you when your patient joins the call (6b).

Note: If you choose this option you can click the video icon on your "Recents" list to rejoin the call.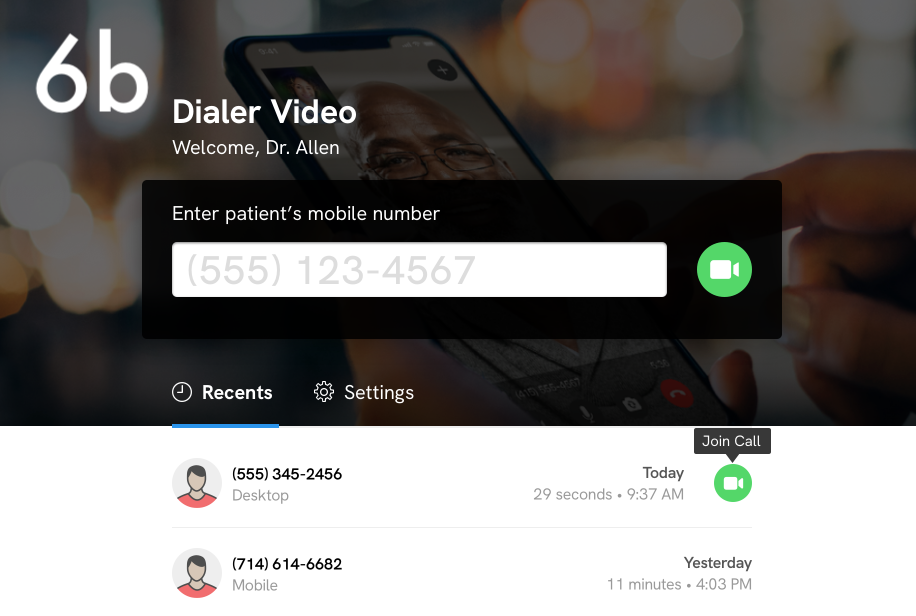 Step 7
Use the 'Call Nudge' button to call your patient without leaving the video call room if they miss the text you've sent them or forget about your scheduled video visit. Read more here.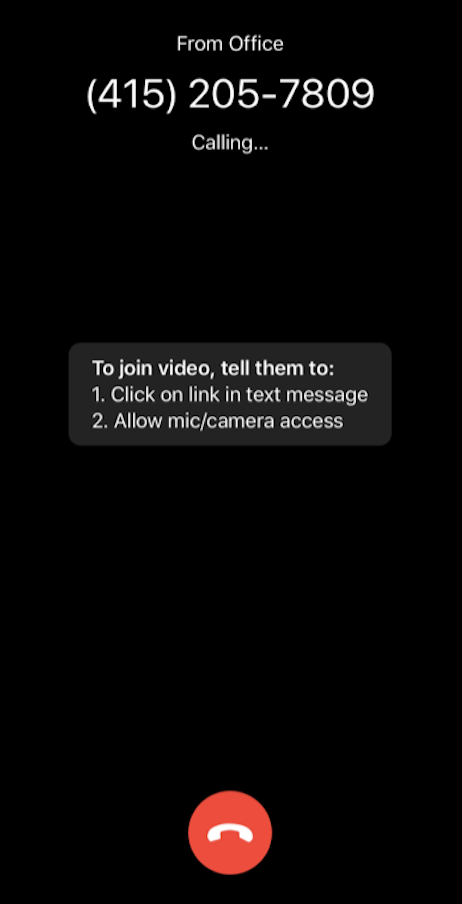 Step 8
That's it! Once you're both connected on the call your screen will look similar to the one below.
+++
See also: Dialer Video FAQs | Dialer Video Troubleshooting | How to Place a Dialer Video Call (on mobile app)